December 14, 2017 AARP Article
Thursday, December 14, 2017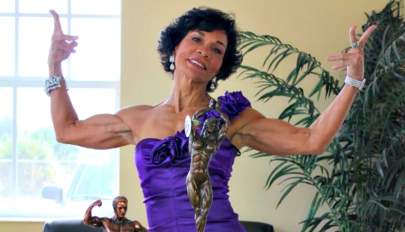 Josefina started in bodybuilding at the age of 59
This 71-year-old Venezuelan does not regret having taken the decision to start the weightlifting practice at 59. She says she reinvents herself every 10 years and, therefore, began her 60s training for bodybuilding competitions. This was after dedicating his life to teaching and sharing his vision of success through television programs.
After beginning a rigorous training, in five months he participated in his first competition. Since then he has won many awards and continues to train daily. "If at 59 I had thought I was too old to start something new, I would have missed the last 12 years of fun and success," he says.
Dr. Josefina -the nickname by which she is known- spends many hours taking care of herself body and soul. He gets up at 3 in the morning to meditate and pray. An hour later, he runs a few miles and, at dawn, he practices yoga on the beach. Later, he spends two hours training in the gym. When someone says, "I want to be like you when I grow up," she asks, "Why not before?"
"The aging process can be slowed by taking care of the mind, body and spirit," he says. "We should never get carried away by fear. You have to let yourself be carried away by the emotion and the illusion of being yourself."
As if that were not enough, at age 71 he wrote and published his first book, Grandiosa at Any Age. It is the living example that it really is never too late to do something for the first time.