My Story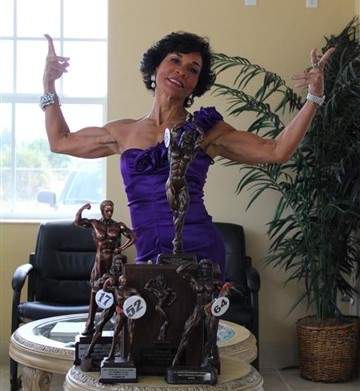 Dr. Josefina D. Monasterio is a Lifestyle Changes and Personal Development Educator, Rejuvenation Expert©, Bodybuilding Champion, Published Author, and TV host.
Her message of inspiration started from a life of poverty in the village of Punta de Mata in Venezuela. Dr. Josefina had a dream that would not be denied. Despite her meager logistical beginnings, her indomitable personality and eternal optimism prevailed. In her writings, Dr. Josefina shares her purpose of inspiring, encouraging and empowering others so that they, too, can feel happy healthy and terrific regardless of how many birthdays they have had; that your chronological age has nothing to do with your biological age.
She shares her wisdom and daily ritual in her book "Vibrant At Any Age" and its Spanish version, "Grandiosa A Cualquier Edad".
This ageless superwoman will change the way you view aging, fitness, and your own potential. She will teach you that your chronological age is not the defining factor that determines your well being and that the integration of body, mind, emotions, and spirit is the most powerful vehicle for reaching your goals. Her personal accomplishments and empowering shows and book encourage you to break your own personal barriers and make your dreams real.
Dr. Josefina is a successful Natural NPC competitor, with victories at state and national bodybuilding competitions. As a natural bodybuilder, she has learned the science of how to master health and controlled eating habits. She strongly believes in not allowing chronological age and old belief systems to define how you should age.
Dr Josefina has been featured around the world through different media organizations sharing her accomplishments. Her lifestyle has been published by many news organizations, and she has made many personal appearances:
America's Got Talent
The Steve Harvey Show
POPSUGAR Fitness
INSIDER Fitness
Positive News Network
Vocativ
IN.com
Storm Media Taiwan
Poland TV (Good Morning Poland)
Amsterdam TV
In UniVision Primer Impacto
Sabado Gigante
The TV Show Arrebatado
Telemundo
Colombia (Radio Caracol)
Venezuela Transmision 98.1
Dr. Josefina Appears on America's Got Talent
Dr. Josefina Appears on the Steve Harvey Show